Our mission is to become the premier advocacy organization related to body image disturbances and eating concerns within the university community.
Our vision is to support college students in any stage of the recovery process, while simultaneously providing guidance to university staff in the role of identifying, assessing, and/or treating college students with eating disorders on their respective campus.
Hynes Recovery Services created the "ED Recovery on Campus" campaign to not only address the lack of support for those in crisis, but also the crucial need for on-campus practitioners to receive guidance on how they can most effectively treat this challenging student population. To help us achieve these important objectives, we've established a National Advisory Board which includes some of the most well-respected clinicians and advocates in our community, both within and outside of the university community. We have also been collaborating with several non-profits and treatment facilities nationwide who have been instrumental in guiding us towards achieving our overall mission stated above. These Founding Members will be sharing about our clinical services and programming online, within their expansive networks throughout the academic year.
------------------------------------------------------------------------------------------------------------------------
​

Hynes Recovery Services is available to help any student in crisis - whether they are in the Boston area, or across the country. Our team will be available to support college students during all stages of the recovery process. Services include Individual and/or Family Assessments, Intervention Consults, and Clinical Case Management Services (establishing outpatient treatment teams in their campus community, residential placement services, the development of a comprehensive treatment plan and ongoing family support). In addition, we are also available to offer Transition Support (from home to campus and/or after discharging from a residential or inpatient facility).
------------------------------------------------------------------------------------------------------------------------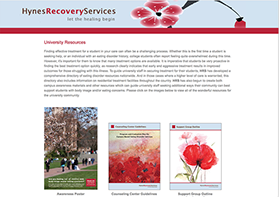 Equally important is to support those on campus responsible for these students in crisis, many of whom have limited training and experience with this mental health issue. Over the years, Hynes Recovery Services developed all of the provider resources in this section, which can be accessed by clicking here. This includes all of the following materials: ED Poster, three online treatment directories, University Clinical Guide and Support Group Outline.
In addition, our team also wanted to create an opportunity for on-campus providers to be aware of important developments in the field, research findings relevant to the college student population, new treatment options and training opportunities nationwide. Two of our most effective outreach efforts in this area includes the development of our monthly newsletters and online event calendar (which highlight initiatives in the mental health, eating disorders and addiction fields).
------------------------------------------------------------------------------------------------------------------------
Recent campus initiatives are highlighted below, which offer even more support - to both students and their families as well as the university community as a whole. Please click on each logo to learn more about these exciting components of our "ED Recovery on Campus" campaign.
------------------------------------------------------------------------------------------------------------------------
Struggling with an eating disorder can be an incredibly isolating experience. It is often accompanied by feelings of shame, guilt, and even self-hatred. At the same time, one's eating disorder may provide a safety-net, taking on the persona of a friend who you simply cannot survive without. Ironically, letting go of that "friend" is the only way to survive. There are many misconceptions about eating disorders that contribute to the stigma experienced by those who struggle with them. It is commonly thought that eating disorders are simply about food, appearance or beauty ideals. Dispelling such myths and educating the public on the reality of eating disorders is critical to decreasing the stigma associated with these illnesses and increasing help-seeking behavior.

As Program Director of Advocacy Initiatives for Hynes Recovery Services, I am excited to contribute to the much needed advocacy efforts in the field. In order to effectively enact change, eating disorder survivors, allies, clinicians, and researchers will need to work together to generate increased awareness and improve patient outcomes. Additional research initiatives, participation in lobbying efforts, and openly sharing personal experiences are a few examples of the multitude of advocacy efforts necessary to bring attention to the critical needs of individuals and families affected by eating disorders. (Our initial efforts will entail the development of an Advocacy Toolkit for the university community).
------------------------------------------------------------------------------------------------------------------------
​

Join this campaign!
If we all work together, we can significantly increase awareness of this important issue throughout the university community, while also sharing with practitioners the most up-to-date and effective treatment approaches currently available in the eating disorder field. There are numerous ways to participate - writing articles for our newsletter, creating a webinar, sharing a video blog with our student community and so much more! (Click here for an outline of ways students and/or the university community can participate in this on-campus recovery campaign).
Campuses interested in this initiative have the additional option of becoming a "University Affiliate" - showcasing their school as an educational institution committed to supporting students struggling with body image and/or eating concerns. All supporters will be highlighted on our website as well as through various outreach efforts not just within the university community, but also within the eating disorder, addiction and mental health communities as well. (Please click here to learn more about this wonderful opportunity).
Please consider joining this "ED Recovery on Campus" initiative, so that the increasing number of young people struggling with an eating disorder will have a wonderful support system in place to guide them on their journey to full recovery.
------------------------------------------------------------------------------------------------------------------------
"It is an incredible honor to be a part of a collegiate initiative dedicated to helping students in recovery. The absence of resources on campus fueled my passion to get involved in similar efforts when I was in college. In my role as the National Collegiate Recovery Spokesperson, I will be using my voice to help further advance what is currently available and inspire those in recovery to create a movement of support on their campuses." — Allison Walsh, JD
"I am thrilled to be a part of the HRS Advisory Board! I will be sharing research updates with the university community - including from the Healthy Minds Study, a national survey administered to students every year on campuses across the country. My goal is to translate research-into-practice, particularly with regard to understanding the prevalence of disordered eating, and meeting the need for mental health services and other supportive resources for students. I look forward to helping Hynes Recovery Services disseminate evidence-based recommendations and best practices to its diverse and growing network!" — Sarah Ketchen Lipson, PhD, MEd, Associate Director, Healthy Minds Network
"It is a privilege to be part of a treatment facility committed to helping college students nationwide seeking support for their eating disorder. These are life-threatening illnesses, and we must all work together to identify individuals in crisis and provide them with the care they need to heal and begin their journey to full recovery." — Carol McCarthy, RN, MBA, Professional Outreach Representative, Timberline Knolls Residential Treatment Center
------------------------------------------------------------------------------------------------------------------------
Campaign Founding Members
In order to support this campus-based recovery initiative, we have selected a wonderful network of organizations to join this campaign. We are sincerely thankful for their partnership, and look forward to future collaboration with the organizations listed below. (Please take a moment to learn more about these programs by reading their brief summary and/or clicking on their respective logo).
Advanced Recovery Systems is an integrated behavioral healthcare management company dedicated to the treatment of addiction, substance abuse, eating disorders and co-occurring mental health issues. Advanced Recovery Systems provides patient-centered care in an environment that empowers and aids individuals on their path to recovery. By integrating neurocognitive behavioral therapy with traditional, evidence-based approaches throughout their entire clinical system and utilizing highly individualized treatment plans, ARS is able to provide an exceptional patient experience at every level of care. Advanced Recovery Systems is focused on becoming one of the nation's most well respected and sought after behavioral healthcare companies, with a focus on providing innovative, cost-effective quality care with measurable outcomes. ARS manages full-service addiction treatment facilities for both adolescents and adults, a specialized eating disorder center, sober living communities and outpatient facilities across the country.
The Body Project is a dissonance-based body-acceptance program designed to help young women resist cultural pressures to conform to an appearance ideal standard of female beauty, and reduce their pursuit of unrealistic bodies. The Body Project is backed by several years of quantitative research that demonstrate the program's ability to decrease body dissatisfaction, appearance ideal internalization, eating disorder symptoms, dietary restraint, and negative affect. The Body Project has been used by numerous high schools and over 100 college campuses and has been delivered to over 200,000 young women. Research supports the use of the Body Project not only with those who have elevated body dissatisfaction, but also in more diverse groups of young women that include those with lower levels of body dissatisfaction. The Body Project Collaborative offers one and two day trainings that can be specifically tailored to meet the unique needs of any group.
The Eating Disorders Resource Center (EDRC) is a non-profit organization whose mission is to: increase awareness and understanding of eating disorders for both the general public and health care professionals; promote early diagnosis, effective treatment, and recovery; and advocate for mental health parity legislation and effective insurance coverage. Both staff and volunteers manage a helpline, assisting clients with eating disorders (and their loved ones) in identifying and connecting with local and national resources. EDRC also hosts confidential and free local weekly support groups, in addition to educating physicians and other health care professionals in how to effectively identify and assess individuals with eating disorders. Another important role of the EDRC is to organize and participate in local and national campaigns to raise eating disorder awareness and to facilitate prevention, early intervention and recovery. One such awareness initiative involves an annual "Every Body's Beautiful" writing contest, for middle and high school students to increase media literacy and body acceptance.
FINDINGbalance is a faith-based nonprofit providing globally-accessible resources and support for those impacted by eating disorders. Online resources include carefully curated digital libraries with hundreds of free videos, articles, and advice columns featuring doctors, nutritionists, counselors and others. Support is provided via a highly-structured online program called "Lasting Freedom," which runs in 8-week cycles and includes pre- and post-cycle assessments for goal-setting and trackable progress of members on their recovery journey. Further support is provided at Hungry for Hope – a semi-annual conference and ministry event in Franklin, Tennessee, which offers community and clinical tracks. Founded in 2002, FINDINGbalance has become the leading Christian resource for daily help with eating and body image issues, is committed to serving ALL who are on a journey toward freedom (regardless of their personal faith stance), and passionate about collaborating with other change-agents to expand the reach of quality, compassionate care.
The Gaudiani Clinic offers expert outpatient medical care to people of all ages, sizes, and genders with eating disorders or disordered eating. The Gaudiani Clinic also offers thoughtful care to those who are recovered from an eating disorder. Dr. Gaudiani is one of the only outpatient internists in the United States who carries the Certified Eating Disorder Specialist designation and is internationally recognized as an expert in the eating disorder field. In her role as an expert outpatient medical doctor, Dr. Gaudiani can function as a patient's primary care physician or as an expert adjunctive physician as part of a multidisciplinary team. Through a collaborative multi-disciplinary approach, the Clinic cares for the whole person, in the context of their values. The Gaudiani Clinic also offers telemedicine treatment in numerous states throughout the country. In addition, Dr. Gaudiani offers professional services including private and group consultation, professional webinars, and presentations.
The Healthy Minds Network for Research on Adolescent and Young Adult Mental Health (HMN) is dedicated to improving the mental and emotional well-being of young people through innovative, multidisciplinary scholarship. HMN addresses the connection between the mental health of adolescents and young adults and their health behaviors, physical health, and social, educational, and economic outcomes. HMN's main project—The Healthy Minds Study (HMS)—is an annual web-based survey study examining mental health, service utilization, and related issues among undergraduate and graduate students. HMS is available for implementation at all types of post-secondary institutions, including U.S. and international four-year colleges and universities as well as community colleges. Enrolling your institution in HMS demonstrates your school's dedication to understanding and addressing issues related to students' mental health through scientifically rigorous research. The ultimate goal is that HMS data can be used to inform policy and practice on college and university campuses.
Helping Other People Eat (H.O.P.E. Inc.) is a 501c3 non-profit organization focused on the prevention and awareness of eating disorders. Since 2001, they have strived to educate all age groups on the warning signs, symptoms and side effects that accompany eating disorders and ​body image issues. This non-profit organization offers information, tutorials, references and public speakers to aid in the elimination of eating disorders. In addition, members of H.O.P.E. also advocate to provide funding for treatment on behalf of those who cannot afford it.
The mission of Mental Fitness is to build resilience in youth through evidence-based arts and mindfulness programs. Their organization brings important programming into K-12 schools and universities that improve the following protective categories and build resilience: disordered eating, social-emotional skills, media literacy, mindfulness, body image, and stress-management. Mental Fitness is one of the few entities that offers evidence-based professional development programs for faculty, teaching strategies that will enable them to better manage serious mental illness within the educational community. For over ten years, their arts-based initiatives have provided a safe, unique and interactive launching point for discussion of complex mental health issues. Since their inception in 2006 as NORMAL In Schools, Mental Fitness' array of programs have been presented in diverse, socio-economic communities worldwide and their programs have been evaluated and deployed in numerous schools through ongoing collaborations with both scientific practitioners and researchers.
O'Connor Professional Group (OPG) offers a continuum of services to address the needs of individuals and families struggling with behavioral health issues that include addictions, mental health issues, eating disorders, and mood and personality disorders. OPG also supports individuals on the autism spectrum, as well as young adults lacking clinical diagnoses, who are struggling with transitions to independence. Their clients include individuals, families, employers, advisors, and other professionals. (Their team of professionals hold expertise, both through advanced training and education and personal experience, who are in recovery from a variety of behavioral health issues). Services are delivered in the home or the community; the range of options includes: interventions, consultations, treatment placements, therapeutic coaching/companion support, case management, family coaching, and an array of customized workshops. Their staff believes in creating tailored, long-term plans that help individuals and their support systems to achieve sustainable recovery. OPG works with clients nationally and does not accept insurance.
SunCloud Health is a private outpatient treatment center for men and women struggling with co-occurring eating disorders, substance use disorders, addictions, mood disorders and trauma. Offering all levels of outpatient care to include individual and outpatient groups, Intensive Outpatient and Partial Hospitalization, SCH is able to work with patients for as long as they need in order to address all aspects of their recovery. SCH is owned and operated by Kimberly Dennis, MD (aka "Dr. Kim"), formerly CEO and Medical Director of Timberline Knolls. Dr. Kim is nationally known and respected for her work in treating anorexia, bulimia, binge eating disorder, compulsive overeating and orthorexia. She and her team understand how co-occurring disorders may contribute to the development of an eating disorder. SCH also understands that pain and trauma is often at the root of most eating disorders and addictions, and its treatment model is designed accordingly.
Timberline Knolls Residential Treatment Center offers a nurturing environment of recovery for women and girls ages 12 and older struggling to overcome eating disorders, substance abuse, mood disorders, trauma and co-occurring disorders. Through an intensive integrated program, individualized treatment is provided utilizing clinical approaches that include the Recovery Principles, Dialectical Behavior Therapy (DBT), expressive therapies, spirituality, family systems and trauma-informed care. Adolescent residents attend TK Academy, an award-winning on-campus school with a curriculum consistent with that of their home school. Women and girls seeking Christian treatment can opt for specialized Christian-based programming. The multidisciplinary treatment team at Timberline Knolls includes psychiatrists, psychologists, registered nurses, counselors, social workers, eating disorder specialists, DBT specialists, expressive therapists, Certified Drug and Alcohol Counselors, dietitians and others. An adult partial hospitalization program is available on campus for step down as well as in a nearby location for women to direct admit.
Walden Behavioral Care offers a full system of care for adolescents and adults impacted by all types of eating disorders, such as anorexia, bulimia and binge eating disorder. This includes programming specific to college students – they are conveniently located a short drive from hundreds of college and university campuses. Walden's commitment is simple: providing the most personalized level of care, and the best chance for a lasting recovery. Whether a student is enrolled at a nearby campus or home on break, Walden develops a specialized treatment plan tailored to the individual's needs, background and goals. Individuals gain the knowledge and skills to navigate dining halls, campus stressors, interpersonal relationships and coursework. They also learn to more positively regulate emotions, reduce disordered eating and develop a stronger relationship with food. Walden's services span all levels of care, including inpatient, residential, partial hospitalization, intensive outpatient (IOP) and outpatient care.
We Are Diabetes is an organization primarily devoted to promoting support, education and awareness for type 1 diabetics who suffer from eating disorders. Their organization provides guidance, hope and resources to those who may be struggling, as well as to their families and loved ones. The daily challenges of living with T1D, as well as the emotional and financial toll it takes, can oftentimes result in a sense of defeat or isolation. WAD staff help those who feel alone in their chronic illness find hope and courage to live healthy, happy lives. Services offered by We Are Diabetes include: referrals to credible providers and treatment centers across the United States; one-on-one mentorship and guidance throughout the recovery process; support for both the individual who is struggling as well as their family and loved ones; unique resources designed specifically for the ED-DMT1 population; and monthly online support groups.